Software Development Companies in Surat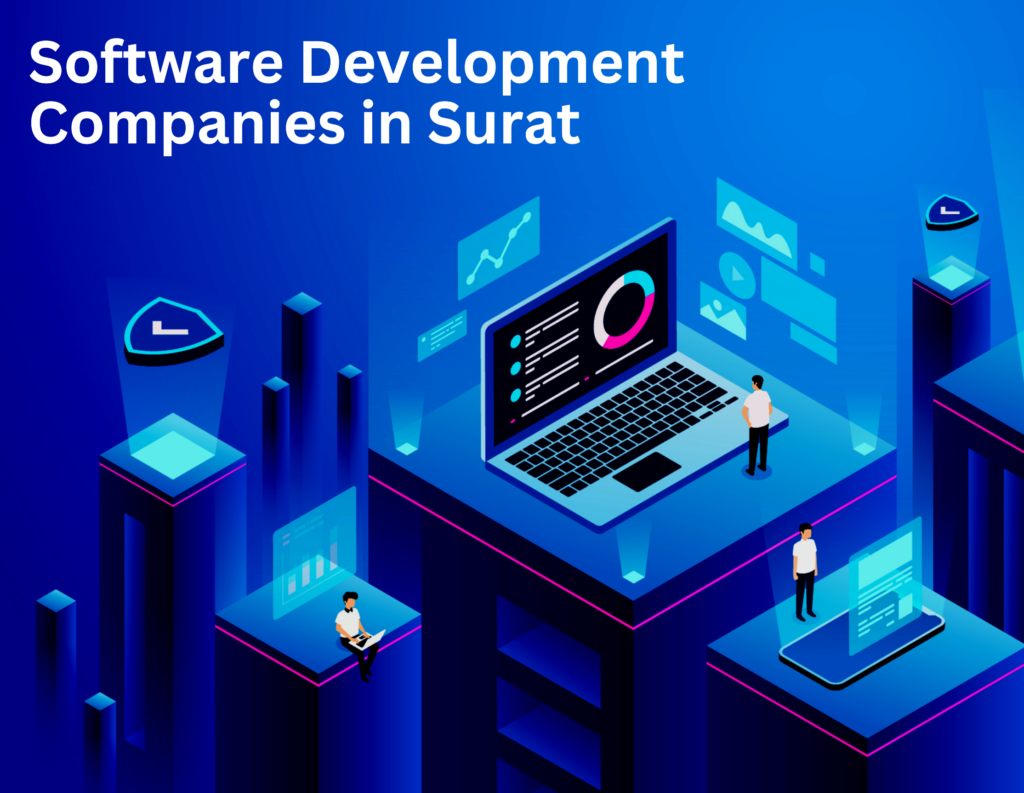 After Ahmedabad, technology had a big impact on Surat. With its new technological advancements, it has rapidly transformed the city and established numerous IT businesses. It is renowned for both its innovative IT services and its well-known, multi-billion-dollar diamond industry. The city has already earned a reputation as one of Gujarat's smartest cities. With the development of IT industries, Surat has changed into a centre of technology. Given its increasing importance, digitalization aids in the city's expansion and maintenance of its current standard of living.
Therefore, if you're looking for something that will bring you success, get in touch with one of these Surat software development companies whose names are listed below, and you'll soon be riding a wave of success.
Codezee Solution
Codezee Solution is the top IT company in Surat. It provides expert solutions to all business problems. The professional team uses cutting-edge technology to raise the bar for the business. It offers IT services for creating e-commerce software, SEO, Android apps, etc., which makes Codezee Solutions the best IT company in Surat. Codezee Solution aims to focus on its clients to develop their business needs and deliver their projects on time. The company has over 10 years of technical experience and provides the best IT solutions to help businesses grow. For all of your IT needs, you should hire expert developers from the Codezee Solutions team because they also have expertise in other areas like website development, mobile application development, and e-commerce website development.
Narola Infotech
Narola is not just another software development company; it is an institution for global businesses to get technical solutions to their complex business problems and needs. Narola Infotech is one of the leading software development companies in Surat. The company's prime aim is to serve its clients, who are spread overseas. The team of experts supports the development and upskilling of the new applicants' talent.
AVID Technology
AVID Technology is a website and software development company in Surat, Gujarat (India), providing high-performance web design and development services at affordable prices. They offer software development, e-commerce website development, ERP solution, website designing, and SEO services in Surat. If you are planning to grow your business through website design, you have come to the right place. Avid Technology loves building and rebuilding brands through our high-skilled skills in website development in Surat.
Helix webi
In Surat, HelixWebi is a well-known provider of website design and software development services. HelixWebi provides clients all over Surat with high-quality and reasonably priced services for web designing, web development, e-commerce web development, CRM software, ERP software, MLM software, online exam software, all types of custom web base software, and SEO (Gujarat). Professional website designers, software developers, SEO experts, and marketing executives make up the result-oriented, imaginative, and highly skilled team at HelixWebi. HelixWebi has the flexibility to provide clients with software development and website design services that meet their specific requirements. Additionally, they offer top-notch services to businesses in Gujarat and Surat that are starting up.
Webby infotech
Webby Infotech is an India-based website development, web hosting software development company in Surat. Webbyinfotech offers to develop internet- and desktop-based applications based on a client's needs and requirements. Their main focus is on client satisfaction and fulfilling all the client's demands. They have developed projects like matrimonial websites, e-commerce websites, tourism websites, office management systems, shop inventory management software, order management software, Flash applications, etc. They also offer website design and development, software design and development, SEO (search engine optimization) services, web hosting and domain registration, flash animation, and scripting.
Tenacious techies
Tenacious Techies is on the list of top IT companies in Surat. It has significant experience in IT solutions and offers IT services for digital marketing, SEO, web design, and other areas. The vision of the company is to be one of the most innovative companies in the world, and the mission is to be the leading mobile application development company. The employees are committed and enthusiastic about the business's development and about the business as well as their work. To achieve the company's objective, the company believes in teamwork and high-quality design. The company aims to develop mobile apps that can change the way we do our day-to-day work with the click of a button.
Lemon technologies
A pioneer in database applications, Lemon Technologies is an ISO 9001:2008-certified software company in Surat that specializes in modern solutions for the gem and jewellery industry as well as the education sector. Lemon Technologies is a part of RSM Astute Consulting Group, the Indian affiliate of RSM International, one of the biggest accounting and consulting firms in the world with offices in more than 120 nations and annual revenues of more than $1 billion. They have development centres in Surat and support centres in Navsari, Mumbai, and the UAE.
Quad soft tech
Quad Soft-Tech was founded in 2008 in the city of Surat, Gujarat. Quad Softtech started with a clear focus on creating cutting-edge solutions for providing world-class quality work to our medium and small enterprise companies with our mature process implementation. It aims to make the customer experience a little better. They have travelled a difficult and thrilling path, utilising a wide range of technologies, domains, and services, cultivating a talented pool of resources, and catering to a clientele around the world. With expertise and experience gained in Web Development Services, Software Solutions, Custom Web and Desktop Applications, Enterprise Resource Planning (ERP), Mobile Application Development, Support & Maintenance, and Design Services, they provided end-to-end solutions to a large portfolio of customers.
August Infotech
The top IT firm in Surat, August Infotech, was founded in 2001 to bring about changes to the workplace, learning environment, and technological innovation. a reputable business with more than 15 years of building excellence. Clients receive successful projects from the company, which also assists them in expanding their businesses. The top IT services offered by August Infotech include cloud computing, mobile app development, blockchain development, and CMS development.
Diffrerenz System
Another top IT business in Surat is Differenz System, which aims to give its clients better IT solutions and support the expansion of their businesses. High performance, increased productivity, and fostering a positive work environment are priorities for the company. Additionally, they aid in employees' comprehension of the company's objectives and satisfaction with client demands. Mobile app development, software development, custom application development, and web development are among Differenz System's top services.
Surat has transformed, intending to offer global IT solutions everywhere. It is succeeding in its endeavours to launch IT companies in Surat that will produce software services to advance innovation and technology. The leading services offered by IT firms include software development, web design, and ERP solutions. Many young talents are adept at launching their careers and showcasing their abilities at IT companies. Some businesses are employing qualified candidates to perform in the chosen field as a result of the increased employment rate.