Hire Dedicated Software Developers In India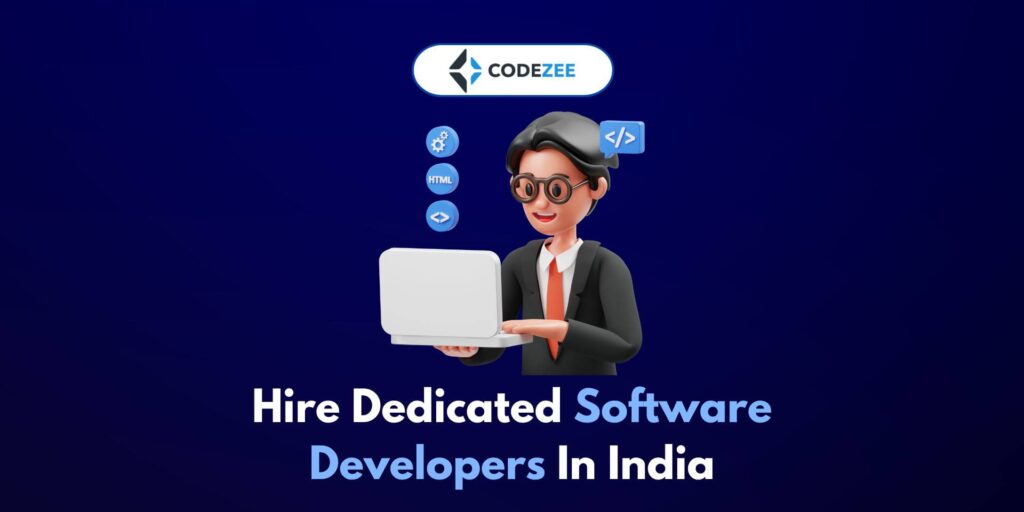 The constantly expanding sector of technology has created a new world and several work opportunities. Similar to how the software development industry is flourishing as a result of technology's positive effects on every field. Because of the hard work of devoted software developers, mobile applications and software have evolved into crucial components of our daily lives. A committed development staff is necessary for a business to run smoothly. Many corporations and enterprises have concluded that outsourcing a development team is preferable to maintaining an in-house development team.
The specialised software development workforce you employ in India not only helps you save money. They also provide businesses with the flexibility to thrive in difficult circumstances. It is a stand-alone company organisation that manages all facets of IT, including concept generation, product development, release, and maintenance.
Let's uncover who these dedicated developers are, how we can hire dedicated software developers, and what benefits your business gains by hiring them.
Who are dedicated developers?
Businesses engage dedicated developers for a set period of time to meet their development demands while concentrating only on one project. A dedicated team of developers is the most crucial element for effective web application development. Committed developers are adept at managing everything from app ideation to implementation to produce distinctive digital solutions. Hire dedicated developers to oversee every stage of the development of your software project, and work with a team of skilled developers to create the product you want. A specialised software development team may also consist of project managers, business analysts, UI/UX designers, and QA engineers in addition to software developers.
How to Hire Dedicated Developers
Requirement Analysis
The first step in software development is figuring out what your project needs or what you want to accomplish with your internet application. In order to ascertain this, analyze your company's goals and the skills, knowledge, and experience needed to meet those goals.
You'll know precisely what kind of developer you need once you've identified what your business demands are and how you want your expectations to be realized.
Shortlist Potential Candidates
We now search for possible individuals with the necessary experience after examining the project's objectives, specifications, and scope. You can search for dedicated developers using the various options listed above.
If you want to save time, you may engage outsourcing businesses to perform the task of narrowing down possible prospects. Based on the information you submit, the vendor starts putting together a team of software engineers for you.
Make sure to communicate your goals and requirements to outsourcing providers verbally and in writing. This will help the process go more smoothly and help the vendor locate the best developers.
Conduct a personal interview
Even if your vendor will help you choose a team of developers, it is a good idea to meet with each applicant. You need to be certain that the committed hire developers in India.
Conducting interviews with the team members can help you and the team have effective communication in the future. Make sure to evaluate the candidate's soft skills, along with their technical skills and professional traits, whether in person or over the phone.
Onboarding and Integration
But to make the process even simpler, make sure your new team members are aware of the project's goals and its present status. Give your new developer early access to the tools and a list of resources that are required. Allow him to walk you through the process of setting up your development environment step by step as well. You may also organise a team meeting to introduce your new dedicated developers and go through their roles with the internal team members of the project.
Updating and Improvement
You should be aware of how things are going and what has been done so far since the developer has been incorporated. Project updates must be scheduled since committed developers may operate remotely from various locations. The project manager has the option of giving weekly, daily, or monthly reports. Be certain to communicate with your contracted development team in the same manner that you do.
The benefit of hiring dedicated developers
Faster turnaround time
Your development project is contracted out to a team of developers that work solely for you. As a consequence, your project is completed much more quickly, and your website or app may be published more quickly. Developers can assist you in achieving a rapid turnaround time since they are highly competent with your needs and are only concerned with your project.
Cost-effective
Hiring remote developers is obviously cheaper than hiring an in-house team. Both operational and infrastructural costs are not your responsibility. Instead, you just pay the developers for their billable hours at their hourly rates.
Access to global talent
If you have trouble finding local developers, outsourcing might provide you with access to talent throughout the world. There may not be enough resources in your region since they are already working on other construction projects. In such a situation, hiring remote developers can be of immediate assistance. And, you will save a lot as the cost of hiring will be lower.
Skilled and experienced
Along with software development technologies like virtual reality, the Internet of Things, robotics, artificial intelligence, and mobile-first development, the demand for competent developers is rising. Indian programmers are gifted and knowledgeable in a variety of technologies. When you work with dedicated developers in India, you can get remarkable digital solutions. Even better, you may carefully choose those who possess the ideal qualifications for the position.
Enhanced flexibility
The freedom to add, delete, or alter project requirements is one of the key benefits of outsourcing specialized software development to leading web development firms in India. The method provides for a range of team sizes. Only inform the outsourcing firm if more UI/UX designers, testers, or other development skills are ever required for the project.
Reliable
You can be sure that a professional development team you hire to handle your IT needs will provide you with high-quality software applications in the shortest amount of time possible. Nearly all dedicated development service providers have strict assessment and reporting procedures in place to encourage openness and accountability. It is possible to monitor progress from one milestone to the next, usually in real-time.
Conclusion
It is a fantastic bargain for your company to hire a committed team that can meet all of your requirements for developing mobile and web apps, provide software solutions on schedule, and help you save money.
If an entrepreneur has an intriguing idea, it is best to hire software developer team from a well-known dedicated development company, such as Codezee Solution.
At Codezee Solution, we have been helping our clients leverage the services of dedicated developers. Our team of developers, analysts, and engineers can work with you to understand your software needs and how our solutions can benefit your organization.